TreeRing Time is a very robust and capable program for managing time and attendance. Yet, ease-of-use has not been compromised by its power. We've made certain the program is easy to get started, use, and maintain. TreeRing Time helps you Collect, Manage, and Process your employee time.
Collect Time
Collect time with a physical time clock, through your web browser, or mobile device. We have a solution for any work environment, and all integrate seamlessly with TreeRing Time. See more about our time clocks here.
Manage Time
TreeRing Time provides flexible time tracking with a rules driven approach. Supervisors can easily view absences, monitor exceptions, and receive alerts. It is built to handle overtime and premiums, rounding rules, meal and break policies, and even complex environments that have shifts that cross midnight. TreeRing Time handles it all with ease. With TreeRing Time, you easily keep employee pay rates and manage client billing. Auditing is also easy with our reporting and analytics at your fingertips.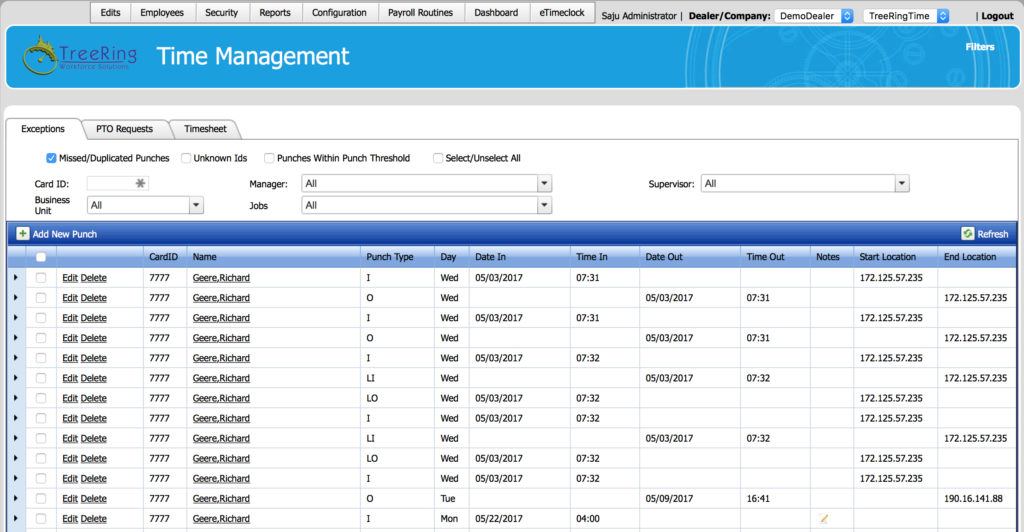 Process Time
TreeRing Time will process time and attendance in accordance with all of your organization's policies and produce your employee time records, ready for payroll. With TreeRing Time, you can issue paychecks with the confidence that time is accurately paid. With our software you can avoid dual-entry of information.
Stay Complaint
Our software helps you program consistent payroll policies. Comply with applicable wage and hour laws, and serve your employees to the best of your ability.
With advanced security and role-based access, the solution can be configured to meet the requirements of most any user type. Flexible dashboards and powerful reports provide users with actionable information for better, more timely decisions. TreeRing Time has the features that you will need for organizations with 200 employees or more.
Flexible
TreeRing Time is scalable to fit the needs of any organization. From a neighborhood clinic with 25 employees, to a conglomerate with thousands of employees spread across the country, TreeRing Time is the right solution for any organization that wants the best solution in workforce management.
Dashboards
See all of your most important labor and attendance information on a single screen. With TreeRing Time, you can create your own widgets for approaching overtime, absences, tardies, missed punches, birthdays, anniversaries, time off requests, and more. Let the TreeRing Time Dashboard be the window to your workforce, allowing you to clear tasks from your to-do list with a single click.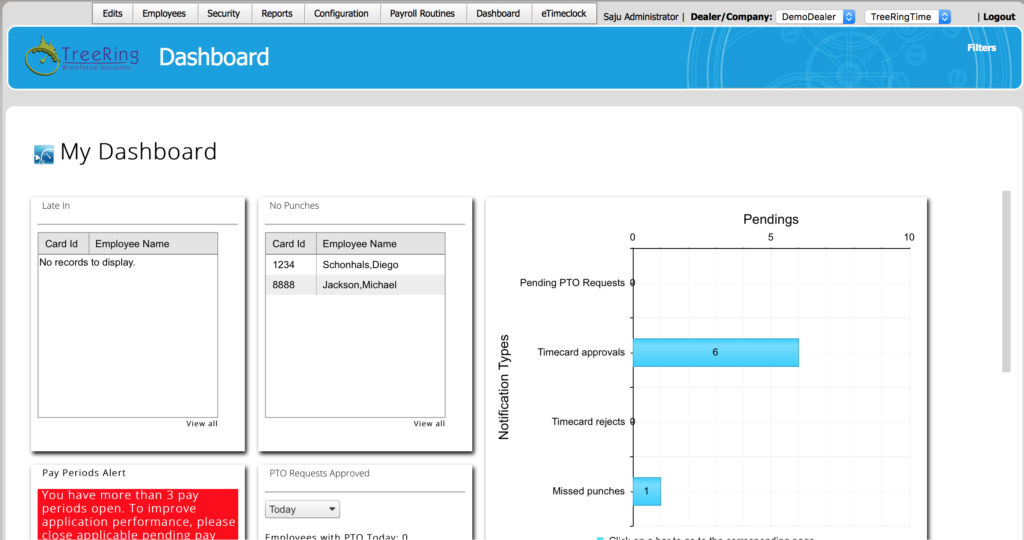 Employee Status
Employee Status is a nifty management tool that allows management to have a real-time snapshot of who is currently clocked in, clocked out, on break (and for how long), on leave, and absent, along with an up-to-the-minute calculation of current hours for the day and week.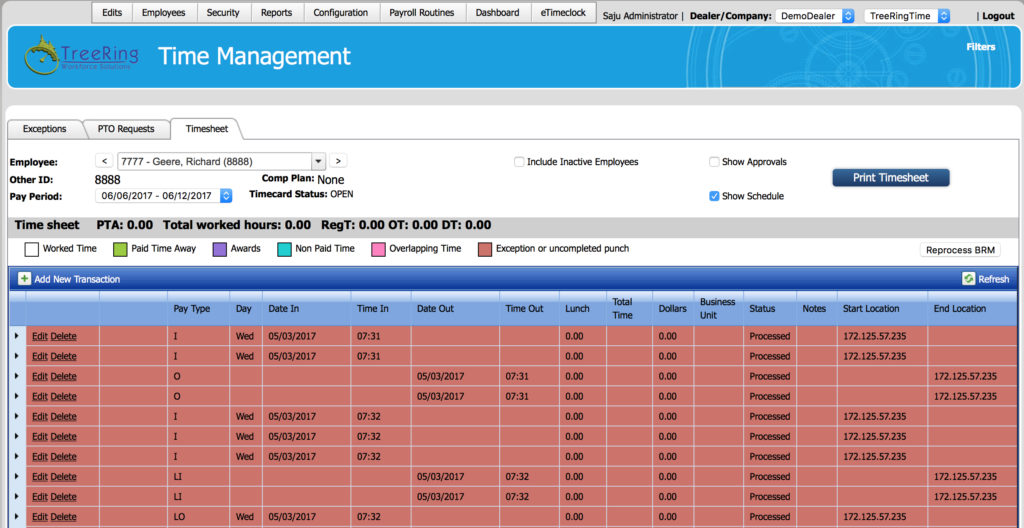 Scheduler
Your managers can view/create schedules for individual employees, or view/create a complete company-wide schedule to apply to multiple employees. Each schedule can then be used by Manager to monitor and restrict clock in/out operations or as a reference point when reporting tardies and absences. Reports (like the Schedule vs. Actual Hours report) allow managers to view what the employee was scheduled to work versus what the employee actually worked. Scheduler also helps forecast hourly labor cost and labor cost as a percentage of sales.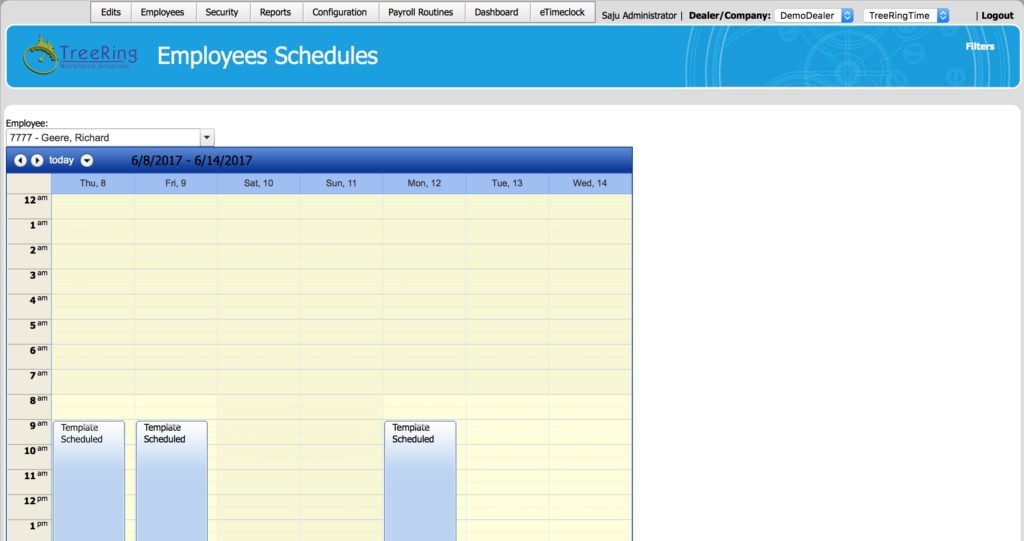 Benefits of TreeRing Time's Time & Attendance Software
Improve employee productivity by replacing all manual timecard calculations
Avoids the hassle of auditing paper based employee time cards
Reduces costly manual payroll & data entry errors
Minimizes payroll processing time
Stay in compliance with labor laws by applying overtime policies accordingly
Reduce the time required to schedule employees
Accruals – Eliminate the need to calculate vacation, sick and other paid time off
Enjoy up to the minute real time visibility on your time & attendance data
With our cloud solution, no need to install or maintain software
Access anytime, and from anywhere using a web browser
Identify & eliminate time theft (early in, late out, & buddy punching)
Export time totals in minutes to all payroll providers and software
Seamless integration with API
Holiday management is easy and simple
Shit Differential
Job Costing
ACA Compliance
FLMA Compliance
PBJ Compliance
Dashboards